Pre-Quarantine phase 1:
Where we knew stuff was coming, but we were still naive about what exactly that was.

I got to go to parent's day at the jr. high.  I loved going to Macey's classes with her.  Seeing how she navigates the chaos that is the halls and how she manages to find her friends in the insanity that is lunch.  Jr. High teachers are amazing.  Modern day heros.  

Seems like a lifetime ago when we still got to hike together.  Little did we know this would be our last one for who knows how long.  
Kacie and I have still been hiking, since there's just 2 of us.  But, this was the last time we'd stand close together for a pic.  

Some girls planned a really fun dad and daughter activity at church.  We crammed all the girls under the table for the dads to try and identify each daughters foot.  so much giggling, hopefully it will last them awhile.  

This what my kitchen used to look like most days.  Now it is in a constant state of chaos.  


Pre-Quarantine phase 2:
Still thinking we might get to go to Disneyland.  Still playing with friends outside, but no one is allowed in the house anymore. Still allowed to go to State Parks not in our county.  
Antelope Island with Holly.  


This was also the last time we ate in a restaurant, sadly McDonalds was our last meal.  We didn't let the kids play in the toys though, some were more mad than others.  

In preparation for our trip to Disneyland I decided to go to the grocery store and stock up, just in case we had to be quarantined for 2 weeks when we got back.  We really had no idea what we were going to do with Disneyland at this point.  

Little did I know how grateful I would be I made these store runs, because like 2 days later things got crazy.  
Schools announced they were going to do 2 minimal days, so the teachers could prep for online learning.  My kids left school friday, thinking they'd go back Monday.  Right after they got home, we found out school was cancelled for 2 weeks.  
We took our last hike with friends.

We tried to make the kids keep some space between them, but weren't too stressed about it.  

It was heaven sitting in that meadow soaking up the sun.  Glad we got it in before it became highly looked down upon to be with friends.  
Domo moved Domopolozza to online, so Paul worked non-stop trying to help get things ready.  Domo moved everyone to working remotely.  Which means Ruby moved into Crew's room and Paul took over Ruby's room as his office. 

They have a love hate relationship with sharing a room.  Best part, Crew used to come down crying that he was lonely.  Worse part, Ruby destroys their room every single day.  
My favorite quote from Crew this month, "Ruby is destroying the 2 things I love most!! Playing and sleeping."  :)  
** Paul's Birthday!!**
It turned out a bit different than we planned.  We were planning to go to IHOP to get rainbow pancakes, the kids had been looking forward to it all month.  Paul's birthday was the day they closed restaurants.  I don't think Crew has forgiven us yet.  

We then entered into Quarantine Phase 3

For me this meant lots of Sodalicious and raspberry filled powdered donuts. 
We tried to figure out this online learning.  
First schedule didn't work.  So, I kept trying. 
and trying. I think we are currently on homeschool schedule take 4.  It might be a keeper, at least for a few weeks.  
We did some rearranging.  Found each kid  their preferred schooling spot and device, and tried to settle into our new routine.  

That grin is due to seeing his class (mostly his teacher and crush) for the first time since school got cancelled.  


Getting setup for virtual Violin lessons.  

Some pics of what our online learning looks like.  


Ruby's cute little giraffe drawing for a math story problem.  They had a zoo animal themed day on the day they were suppose to go on their zoo field trip.  That was a hard day.  


Every Monday morning Crew, Ruby, and Miles all have speech over hangouts with their amazing speech teacher.  It is not easy, they are not the most cooperative, but she just rolls with and helps us the best she can.  We miss her a lot, so much so, that every time I talk with her on Monday's I am afraid I will break down and cry.  

How I feel 10 min into homeschool.  

Fang is getting very worn out having all the kids home all day.  
His only safe haven is Paul's office. 
We have instituted a kitchen helper of the day.  They get to pick what's for lunch, prep it, and then help me with dinner.  They also get to pick the movie after outside time and lunch. 
I feel like it's been one of our more positive additions to our daily life.  


There has been lots of crafts, puzzles, games, and overall mess making. 

The boys spent 2 solid days doing Pokemon Masked Singer in the basement and I think they've put together this Pokemon puzzle at least 5 times.  
 
I survived pre-Coronavirus by getting outside and taking my kids places.  We've been trying to do the same during all this craziness.  
the snow hasn't been helping though. 

Some days I force them on a walk and stomped behind them like a prison guard.  

Other days I send them off on their own with a promise they can't come back until they've walked at least a mile.  

 
We've had endless bike rides trying to get our excess energy out.  

And then sometimes there's a miracle and kids are content to just draw with sidewalk chalk for a few min and soak up the sun. 

One of my favorite moments of March was a family kickball game before bed at the school.  Even Fang got in on the action.  

Another highlight has been watching these kids play together without the distraction of neighbor kids. It really has been amazing to watch and this is what I hope they remember.  
Crew reading to Ruby. 

Macey and Crew practicing their Harry Potter Spells. 


And the unifying effort of making Fang participate in their imaginative world.  

We've been on more hikes and walks than the kids would like, but sometimes we bring Fang and there is much less complaining.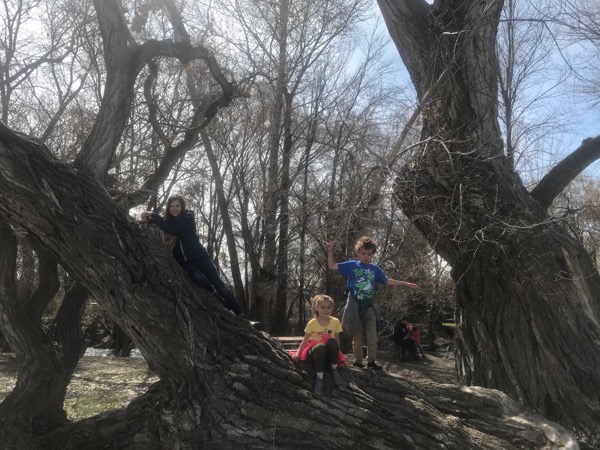 A new favorite pastime we've discovered is flying kites in the field at school. 

The tramp has also been in use nonstop.  

Miles got his cast off!!! This has made life much easier to handle for him.  


 
One of the harder things is our trips that keep getting cancelled.  
Our tally is currently at Disneyland, Nana and Pop-Pop coming to visit, Snow Canyon, Moab, and Capital Reef.
I am doing my best to keep a positive attitude by 
Hiking: 


Kacie and I keep an appropriate 6 ft distance between us at all times, even when taking selfies.  
Date nights in the car.  

I have even done some crafting.  

So many trips to Sodalicous. 
Paul and I have been working hard on putting together our own Covid-19 playlists.  It really helps laundry folding more enjoyable. 
 And memes.  People's meme games are strong right now and are helping to keep me sane.