december part 2: Winter Break
We flew to Texas for Christmas.  
It wasn't quite as bad as I thought it would be to travel with 4 kids and lots of luggage the week of Christmas.   It was a long, but manageable day.  
Luckily, we've got this flying thing down. and Renting a mini van and beach house made things much less chaotic.  
The kids top, number one, thing they wanted to do when we got to Lake Jackson was go to Chuck E. Cheese.  

They have been sad since ours closed a few years ago and this filled the holes in their hearts.  


My top, number 1 thing, to do was hang out at the beach.  
Not a bad way to spend Christmas Eve and get out some energy.  
Crew was the only kid that wanted to build a Sandman with me.  


And we were the only people on the beach that actually went in the water, pretty sure everyone else was locals.  : ) 


I could of spent days just like this, but sadly we just got the one day.  


Luckily, Paul and I did get a few beach walks in during the week.  


Christmas Eve at the beach house.  

Everyone was very impressed with my christmas tree and our house decor even added a nice finishing touch to the tree.  
Got my Christmas Eve tree and stocking pictures, like always.  
Ruby also lost a tooth Christmas Eve, which just added to the excitement of it all.  

Christmas Morning!! 


Waiting on the deck cheering Opa on as he climbed the million stairs up to the beach house.  

I didn't take many pictures this year.  But, we nailed it in the present department.  Every kid was happy, grateful, and had a toy to play with.  
then it was onto Paul's parents house, where the cousins finally came into town!! 

This is it, the only picture I took Christmas Day.  But believe me, it was awesome, kids loved being with all The Navasards, and it was very magical.  
We spent the rest of the week eating good food and hanging out family.  
Brooklyn proved to be the best toy there was.  
Some of our favorite food:
Asels, where Crew ordered a donut burger.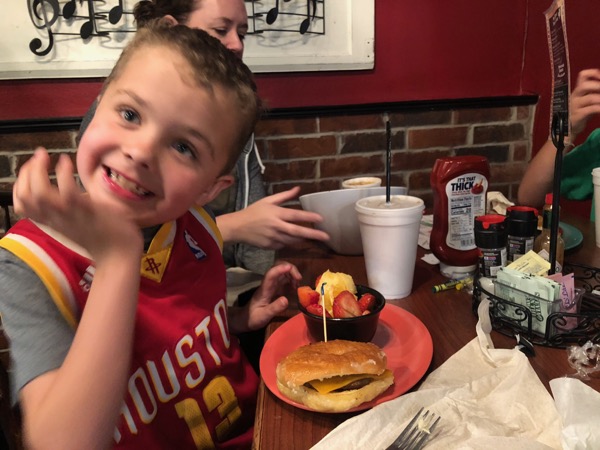 So much Shipley's, but yet not enough. 

Got takeout from El Torro.  
We spent the day after Christmas at Keema Boardwalk. 
Another day visiting the museums in Lake Jackson.  

Then we did family pictures before we had to head up the airport hotel in Houston. 

Kids said it was their best Christmas Ever!  

After a very delayed flight home, we picked up Fang with 20 min to spare.  
Fang was crying, kids were screaming.  it was quite the reunion.  
And here's Fang's report card. :)  

Kids were also happy that Santa stopped by our house and filled up Fang's stocking.  Proved to the younger 3 that Santa is for sure real. 
We then had a perfect, mellow, New Years Eve with the Rensinks.
There was Soda Pong. 
Club Navasard.
Games.
Just an overall goodtime where kids were asleep by 10:30.
And then we spent the rest of break being lazy and playing in the snow. 
Typical Utah kids:  the moment the sidewalks and roads are semi clear they are back to bike riding, scootering, and playing basketball.  

Paul brought out the water balloon launcher to aid in the neighbor kid snowball fight.  
Not a bad Winter Break.