The gathering of snow clothes is always the most stressful part of a snowy day. Luckily, I figured out before it was too late that Ruby needed some new winter clothes for walking to school, here she is happily modeling what I picked out.  


Since Trina and TJ didn't make it for Thanksgiving, they sent the kids a package to help ease the sadness.  Kids of course loved every little thing Trina picked out for them.  

I felt like we didn't have as many performances as normal this December and it was weird.  Part of that I suppose is because it's the first time since 2nd grade that Macey hasn't done The Scera classes.  
The 3 little kids did have a Christmas concert at school, but I took no pictures.  You'll just have to believe me it was adorable.  
Ruby had a little dance recital.  
Pure cuteness.  


And Macey had an Orchestra Concert. 

and that was it.  No stress at all.  
I blew up a potato in the microwave. Everyone found it very entertaining. Except me, because i had to clean it up and then had no dinner. :)  
Fang is still living his best life.  
Finally got him his first pup cup from Sodalicious.  He's hooked and now loves Sodalicious as much as the rest of us. 
Got a car wash between snow storms and the kids thought this was pretty hilarious.  


Ruby got Student of the month for November.  They take their pic and get to have a catered lunch with the principal. She loved every minute.  And she really has worked her little kindergarten butt off and earned it. 
She came into kindergarten a lot behind and has worked hard to pay attention and try when things are tricky.  And most importantly, she is kind and respectful.  


Finally found the perfect Christmas puzzle for us. We sadly lost 3 pieces in the process of putting it together and everyone is blaming Fang.  

We took the little kids to Starwars (Macey went with her friends).  Miles and I waited in the hall for the previews to be over.  They are always too loud and intense and scary for this one.  Who knew the previews for Starwars lasted 30 min!!  

#momhike
Macey threw a wild and crazy Christmas party for her friends. 
I love these new friends she's made since our move.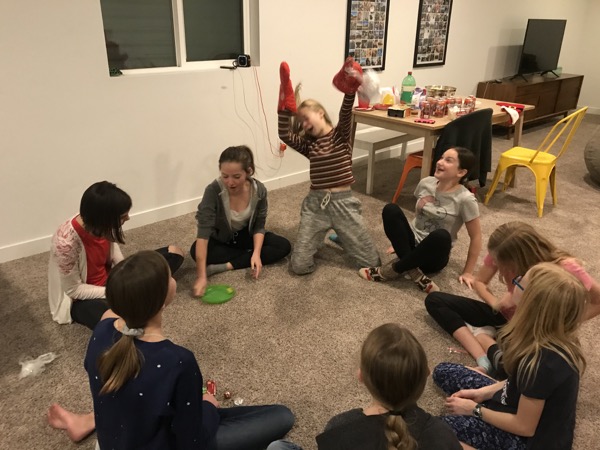 Our main goal for this holiday season was trying to find a way to serve our community and get our kids involved.  Plus, buy our kids less. And we finally did it.  We only got each kid one present and there were just fine with it.  
We decided to adopt some families in our area through United Way.  
It was a bit stressful shopping for an entire Christmas for 3 other families, in addition to ours.  But, all worth it in the end and we were able to find the things on the kid's lists.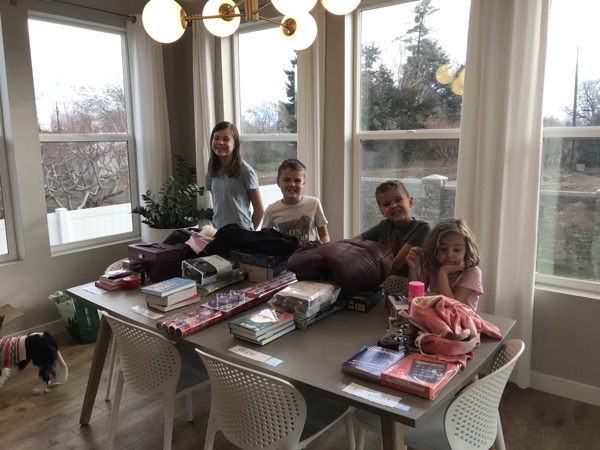 The kids were a bit nervous when we started delivering the presents to the families. but, it was good for them to talk with these moms and see families in different circumstances than ours, but that these families were still kind and nice. Plus, all the families had a little treat for the kids, like hot chocolate or brownies and they just thought that was the nicest thing ever.  We will for sure be doing it again next year.  
Nana and Pop-Pop came out to visit.  
We had a gingerbread making competition.  boys vs girls.  


The boys gingerbread house had gingerbread men pooping.  machine guns.  they wrote Die in frosting on the roof. It was hilarious and wild. 

these kids are never boring.  


We went to 2 BYU basketball games when they were here.  
We went to Christmas in Color again. 
It was pure chaos in the car switching kids in and out of the sun roof, but we did it and no one got hurt.  

I took my dad hiking.  

It was so fun to share something I love with him.  


We made Nana's dreams come true by taking her ride the animals at the mall.  

We did our Early Christmas.  
The Nerf guns they got the boys were huge hits.  


And everyone had a chance to wear their Christmas best.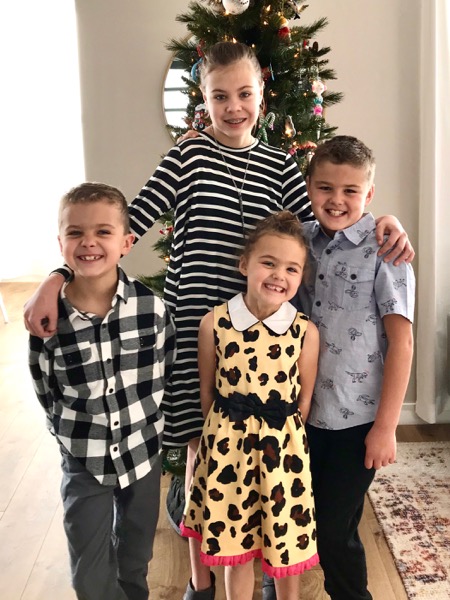 Next up…Christmas Break.