Ruby turned 5.

This girl is crazy.  She is strong willed, feisty, silly, cuddly, and wants to be in on the action ALL the time. 
90% of the time she requests that someone lay with her for just a few minutes when she goes to bed.  The night before her birthday, I volunteered.  Got my last cuddles and selfie with my 4 year old Ruby.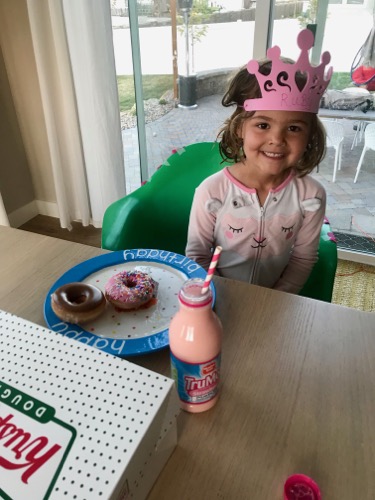 We got her a playhouse for her birthday, it was much more time consuming to put together than we anticipated.  Hopefully our (paul's) hard work will be worth it.  
On her birthday she demanded lots of birthday cuddles from Fang.  He is one patient puppy because she is about as rough as they come where animals are concerned.  

She was super excited to go to preschool on her birthday.  
And can i just say how much more I love my kids when they request a 9x13 cake instead of something crazy.  
We had her birthday party the next day, where she did request cupcakes like Pinkalicious.  Luckily, I convinced her to use pink gumballs instead of cherries.  

So simple, even Ruby did most of the work.  
Ruby planned an exciting menu of pickles, watermelon balls, pink goldfish, popcorn, cupcakes, and pink lemonade for her friends.  
Ruby has the best friends, who also happen to have the best moms.  

I just love all these cute kids so much, luckiest girl around.  

Ruby is one of my most challenging kids.  All my normal mom tricks don't work on her. Plus,  I am just more tired with her than the other 3, so she ends up getting away with more, which only makes things worse.  

Here's hoping 5 is our year to get things under control.  but, whether that happens or not, I am going to enjoy this wild tornado of a child and all the loves and cuddles that she brings with her.