December couldn't of started off more perfect.  A snow storm came!!  
We were quite excited and hit up our favorite sledding spot with our neighbors.  

We visited the aquarium some more. 
 
Mom hikes are still going strong and keeping me sane.  
Like every December there were about a million performances.
Crew had his first grade program.  
Pure cuteness.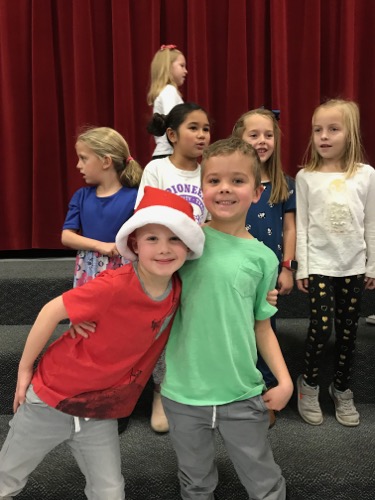 Macey's orchestra class had a little performance.  I was quite impressed with what they had learned with 90 min a week for a few months.  
Michelle and I took the girls to see The Christmas Carol at the Hale Center Theatre.  
Macey had her Scera Youth Theatre Christmas Review.
They did a great job, as always.  
And Ruby had her Christmas dance Recital.  
which was just 30 min of pure cuteness.
Doing dance with these friends has been one of our favorite things.
they get to hang out and run around together and Traci, Ashley and I get to workout and chat.  It was a win-win all around.  
Ruby, was very specific with her flower choice for after her performance. 

I passed the test.
Ruby is as strong willed as ever.  
She decided she didn't want to go to preschool one morning, but my sanity depended on her going.  So, I had to drag her to the car kicking and screaming. I tripped over an out of place stool in the garage and since I was carrying Ruby and was terrified of her hitting her head on the cement garage floor, I cradled her body and tore mine up in the process.  
Luckily I had a really thick sweater on and yes, I went to preschool drop off with blood dripping down my arm.  This injury was not going to be in vain. :)  
She is a not stop drawer, my first one.  I cannot keep my scratch paper stocked.  My favorite is that she alway includes belly buttons on her people. 
We visited Santa.  
It was all going very smoothly. 
And then Santa asked Miles if he's been being good.  Miles then started crying and ran away down the hallway of the mall.  
Through my amazing terrorist negotiation skills, I convinced him to just sit by Santa.  I was not requiring any smiling or talking.  This is what we got. 
won't be a Santa visit we will be forgetting anytime soon.  
My parents came to visit this month and go to enjoy some of the above chaos with us.  
We also took them to Just Add Chocolate. 

Made sugar cookies.
We got to help in Miles' insanely over the top Polar Express Day at school.
Introduced them to Dave and Busters.
Played lots of games.  

Had a mini Christmas
And decorated one gingerbread house.  I thought about branching out and buying multiple, but all kids were content with decorating their one side, so we are sticking with one house. :)  
Always a good visit.  
Paul and I also threw our first real party at the new house.  I didn't get any pictures.  But, I did get a picture of my sweet outfit. 
Obviously the party was a huge success.  
The kids were sad we made them go to bed and they missed out on the festivities, so we played another round of Soda Pong with them the next day.  it's a family favorite. 

My cousin Matthew and his family came into town, so had fun meeting up with them a few times.  
We hadn't seen them since they moved away when Crew was a newborn and it was so fun to meet their kids!  

and we thought about taking our Trampoline down for the winter, but are glad we didn't because it has been jumped on pretty much every day.  Rain or shine.  
Next up Christmas break Festivities.